Endless OS is built from open source software that supports many consumer laptops. However, some laptops that did not come with Endless OS and do not support Linux may not have as good of battery life as one would like when running Endless OS. At the same time, certain tasks and apps may consume more power than one might think regardless of how well the hardware supports Endless OS. Lastly, properly powering off your computer can help the battery last longer in between uses.
All rechargable batteries lose capacity with time and use. For example, after a few years of use, a laptop battery will not retain as much charge as it did when brand new. A general industry rule is that retaining 80% battery capacity after 500 charge cycles or two years of use is good for a quality battery.
You can check your battery health on Endless OS using the GNOME Power Statistics app available in App Center and from Flathub.
Install GNOME Power Statistics by searching in App Center or using the link above

Open the Power Statistics app once installed

Navigate to Laptop battery → Details → Capacity and note the percentage
If the capacity is 80% or above, you should expect fairly typical battery life. If it's below 80%, you may want to consider replacing the battery.
Even with a healthy battery, some tasks can consume more power than one might expect. Some tasks that consume significant power include:
100% laptop display brightness can often be the largest consumer of power. If you are trying to get more battery life, consider lowering the brightness to the lowest comfortable level. Even just reducing it a few steps can significantly increase battery life. On Endless OS, you can also select Settings → Dim Screen When Inactive to lower the brightness after a short time of no input.
Video chats like Zoom, Google Meet, Skype, etc. require your computer to recieve multiple high-resolution video and audio streams, upload your own video and audio, and power the camera and display the whole time. To reduce power consumption, consider: lowering the display brightness, turning off your camera when not needed, turning off effects like virtual backgrounds or background blur, or changing video chat settings to use lower-resolution video.
Background apps including file syncing, like Dropbox can consume a lot of power without being immediately obvious. If you have a file sync or other background app running, consider closing it when it's not actively used. On Endless OS 4, check for running background apps in the bottom-right of the panel, and right-click to select a "Quit" option.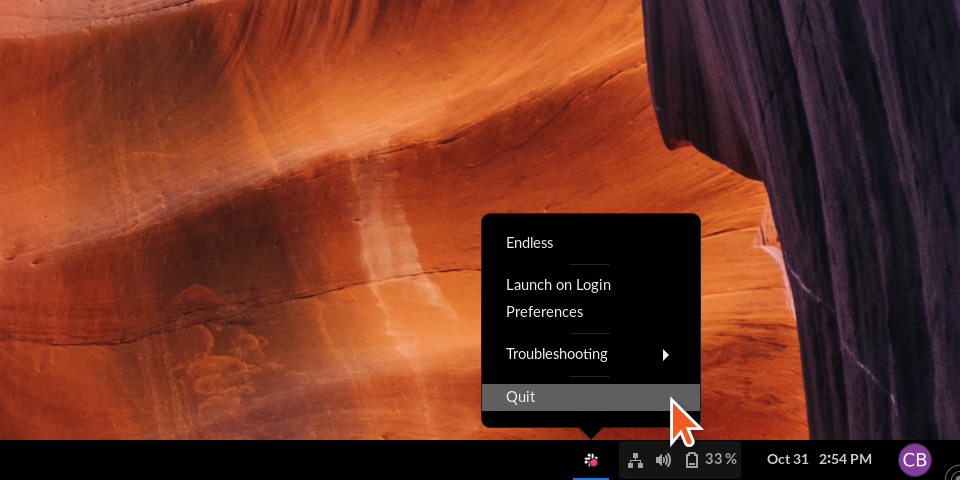 Wireless communication including Wi-Fi and Bluetooth may use power when enabled, whether or not they're being used. If you're not actively using Wi-Fi or Bluetooth, consider turning them off from the bottom-right menu or in Settings.
Connected USB devices may draw power whether or not they're being used. If you aren't using a USB device, consider disconnecting it to save power.
By default on Endless OS, when you close your laptop lid your computer enters what's called Suspend. This is a lower-power state than normal operation, but still consumes battery so you can nearly instantly resume using the computer.
If you will not be using your computer for long period of time (more than a few hours), we recommend Powering Off the computer instead. To do so:
Click your user icon at the bottom-right of the panel
Select Power Off / Log Out, then Power Off...
Or, just start typing "power off" to search from the app grid. To resume using your computer, open the lid and press the Power button on the laptop.