Endless OS may fail to load, with the following error message:
error: no such device: ostree
This error may be repeated again and again, as follows: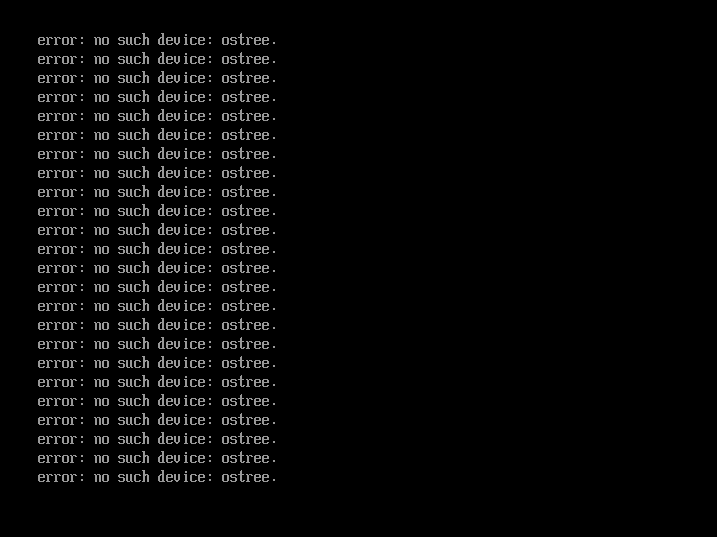 To enable your computer to boot again:
Create an Endless USB Stick on another computer
Boot into the Endless USB Stick on the computer that is affected by this error
Open the Disks app.
Select your internal hard disk on the left pane
Click the ostree partition in the right plane
Click ▶ to mount the partition
In the Contents line, click on the path where the filesystem was mounted
In the file browser that opens, descend into the tmp folder
Right click in the empty space and click to create a New Folder
Enter bootfix as the name of the new folder and click to Create
Shut down your computer
Remove the USB disk
At this point, you should be able to successfully boot into your Endless OS installation once again, however there is a small chance that the problem will reoccur in future.
To avoid this problem from reoccuring, please backup your files and documents, and then reinstall the latest version of Endless OS on your computer.
The following supplemental information is intended for developers and technicians.
The root cause here is that when the system is shut down with a certain number of free inodes on the root filesystem, grub will become confused next time the system is booted, believing that our ext4 filesystem is actually minix.
This is because there is an unfortunate collision with the storage location of the minix superblock magic number and the ext4 free inode counter. The workaround above is to simply adjust the number of files on the disk, such that the free inode count changes.
This grub issue was fixed as of Endless OS 3.8.4, but unfortunately Endless OS does not yet come with an automated bootloader update mechanism. Any installation made with a version older than 3.8.4 will remain susceptible to this issue, even if such installation was updated to the latest version.