The Internet is not required to run Endless. Most of the apps that come pre-installed, you can use without going online.
Here are some things that you don't need the internet for:
Reading: we have lots of apps like Encyclopedia or Cooking that provide things for you to read or look up. These come pre-loaded with reading material so that you don't need to access the internet.
News (Spanish and Portuguese only): we have apps that come pre-loaded with news articles from well-known newspapers. You need an internet connection from time to time, to get fresh news, but once you have downloaded it you can read it offline.
Games: You don't need the internet to play the games that come with your computer, but if you want to play games online you'll need an internet connection.
I you would like to know if an app is pre-installed or if you have to download it, access the App Center and look for the App if it has a small cloud icon, it means that internet is required for download; if it has a small check icon, it means that the app is already installed.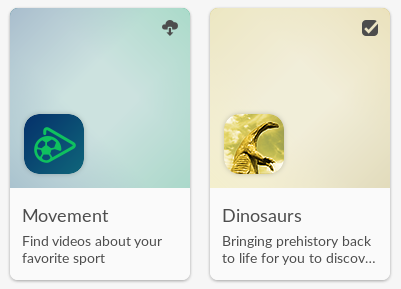 Here are some apps that do require an internet connection:
Browser (Chromium, Chrome, Firefox)
Content center
Weather
Website links on the desktop
Updates in App Center
Fill out our form giving us more information