Follow the steps below to make a debug log of Endless OS, after reproducing the issue that you would like to report:
1. Turn on your computer and on the desktop
2. Press the keys "ALT + F2"

Note: some computers with "Fn" key, will require that you press it as well, "Fn+Alt+Fn"
3. In this window that will appear in the center of the screen write eos-diagnostics and press the enter key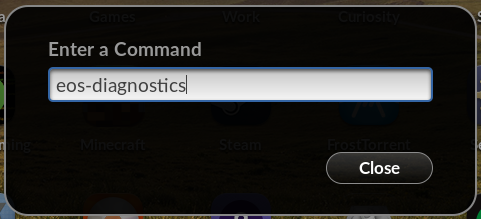 The log file in the format (.txt) will be saved to your Home folder.
Note: You can access it when you click on the "Documents" icon on your desktop.
4. The log file name starts with "eos-diagnostic"

In some cases, we need more information than is included in this log, If that is so, follow these instructions:
Open Terminal
Run $ killall gnome-software
Run $ gnome-software --verbose > gnome-software-verbose.txt – this will launch the app center and gather a lot of debug output to a text file
Reproduce the problem in the app center
Close the app center and return to the Terminal
Press Ctrl-C
Send gnome-software-verbose.txt to us
Do you have a question? Send us a message